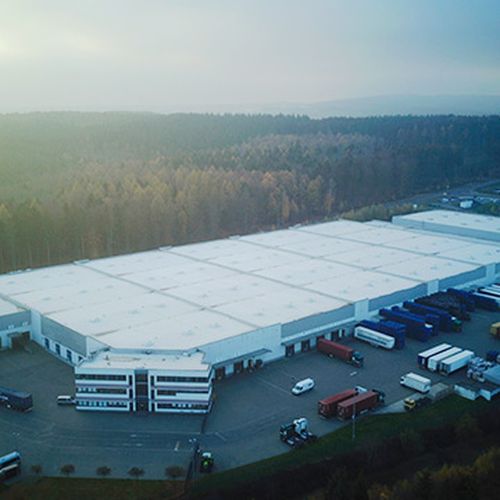 We are your experienced, expert partner
The road is our goal – and we've got the best grip to go all the way. Because we are specialists in tires and wheels: Tires are the connection between car and highway. No matter what make and model, no matter how good a car is, without the right wheels, it cannot perform on the open road.
We are also the crucial link between manufacturers and dealerships. We want our customers to reach their full potential. Both nationally and internationally, we achieve this in our role as tire wholesaler, original equipment manufacturer (OEM) or supplier (OES) and digital service provider – uncompromising customer service, optimum performance and perfection in logistics. For us, the people are at the center of everything we do. And this includes our commitment to sustainability and environmental protection.
Performance with passion
As a recognized and experienced service and solution partner for everything related to tires, rims and complete wheels, your success is our main concern. That is why we have been a reliable, expert partner for vehicle manufacturers, tire wholesalers, specialist retailers and garages for decades. Because tires are not just our business, but also our passion.
These are our business areas as one of the leading full-service providers:
● Tire and rim wholesale
● Exclusive tire and rim imports
● Rim manufacturing
● Complete wheel assembly
● TPMS expertise
● Marketing consultancy
● Brand and sector-specific consultancy
● Data services

Our quality requirements in detail
The next step is one step closer to the goal. And that is why we constantly improve quality and efficiency. We are committed to operating as sustainably and environmentally friendly as possible.

Professional quality management
Our many relevant certifications emphasize our quality and reliability as an original equipment manufacturer and supplier in the aftermarket. Among them is the IAFT-16949 certification, which confirms that our range meets all the important industry quality standards. We are also striving to always  fulfill customer-specific requirements in logistics. As we continue to improve, we remain at the forefront of quality.
Innovation
Continuous progress is one of the fundamental requirements in our sector. We regularly set new standards with innovative ideas:
Our newest foreign subsidiary in Gothenburg, Sweden boasts Best4Tires' first autonomous logistics and production system, from which we supply the Nordic countries as well as the Baltic States. Autonomous units and a cutting-edge palletizing system optimize logistics.

Our Digital Customer Experience (DCX) helps us to further develop digital structures across the organization and enhance the B2B and B2C sales experience.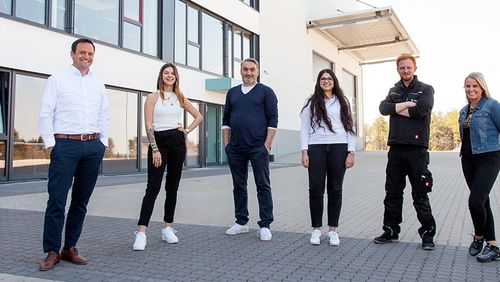 Aftermarket support
Thanks to our expertise in complete wheels, we form a key pillar in the aftermarket, particularly by working with corporate headquarters and contracting with vehicle manufacturers. We offer our customers

● a reliable supply of tires, rims, complete wheels and accessories
● digital shop solutions
● expert marketing support

Close support and advice are top priorities for us and are reflected in the fact that a third of all German car dealerships rely on Best4Tires, as do many vehicle manufacturers and general importers.
Our services in detail
Our portfolio covers the complete value chain for tires and rims from production to retail supply – both nationally and internationally. We meet every requirement, from supplying original equipment for vehicles and manufacturing complete wheels to supporting the tire and rim trade.
Best4Tires has a leading position in the distribution of tires, rims and complete wheels. Among other things, this is because of our efficient logistics with our own van fleet and logistics center. Our customers know: Expectations are there to be exceeded.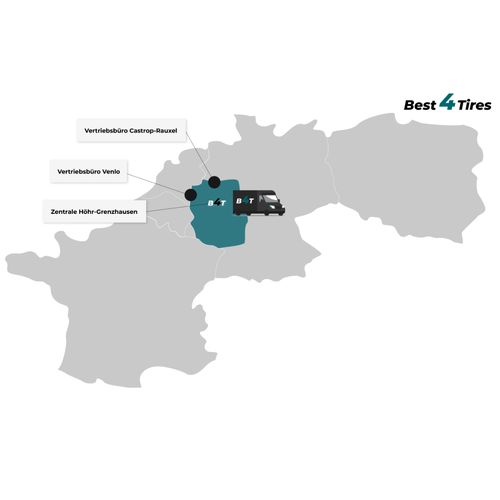 Our locations
National locations
As well as the corporate headquarters in Höhr-Grenzhausen and the logistics center in Daufenbach, our locations are strategically located so, using our own fleet of approximately 190 vans, we can promise delivery within 24 hours to our customers (of which there are over 7,000 car dealerships) within a radius of around 200 kilometers of Daufenbach and in the Munich and Hanover areas. In Berlin we have acquired 1a Tyre, now Best4Tires Berlin GmbH, a subsidiary of Best4Tires Holding GmbH, sister company to Best4Tires GmbH.
More than 50 customer service representatives provide personal, individual advice and brand-specific support for all aspects of your order.
International locations
Best4Tires has direct connections to leading vehicle manufacturers at four locations outside of Germany with more than 66,000 square meters of storage space. As an original equipment manufacturer, we supply both just-in-time and just-in-sequence. More than 3.5 million complete wheels are delivered every year. This is how we demonstrate our potential in the logistics sector.
All our customers can rely on finding expert advisors in the following languages:
● German
● English
● French
● Italian
● Dutch
● Polish
● Russian
● Turkish
● Hungarian